NEW Essential Service
Bay Automotive understands that the cost of a full service right now could put extra stress on your finances!
For those who want to look after their car without the cost of a full service, we have added the New Essential Service range to help you and your car get through by doing only the essential stuff.
Bay Automotive helping to keep your car reliable for the next year.
We're happy to help.

Bay Automotive Services,
Not JUST European
Specialists.
We are passionate about your European cars. Not only that we have spent a lot of years training and investing in the best to put that word specialist in our name. Does that mean we know everything? Tell me someone who does its impossible. The difference with us is we understood this a long time ago so we have heavily invested in technology and information systems as well as a worldwide technical support system.
Do I back Bay Auto? Absolutely and we have operated for years with the ethos of looking after things even if they don't go to plan. We are the people you can trust for sure.
Oil & Filter Change
Complete oil and filter change that keeps your vehicle running longer, quieter, and more efficient.
Brake Fluid
Check to ensure your brakes are safe. 
Power Steering & Coolant 
Check fluid levels and top up as required.
Washer bottle
Add a V-Shot to the washer bottle and refill.
Wiper Blades
Clean wiper blades front and rear and check how they operate.
Tyres
Check and adjust tyre pressure. 
Road Test 
Road test your vehicle and advise any concerns that need attention.
+Plus Service 
Connect scan tool and reset service indicator.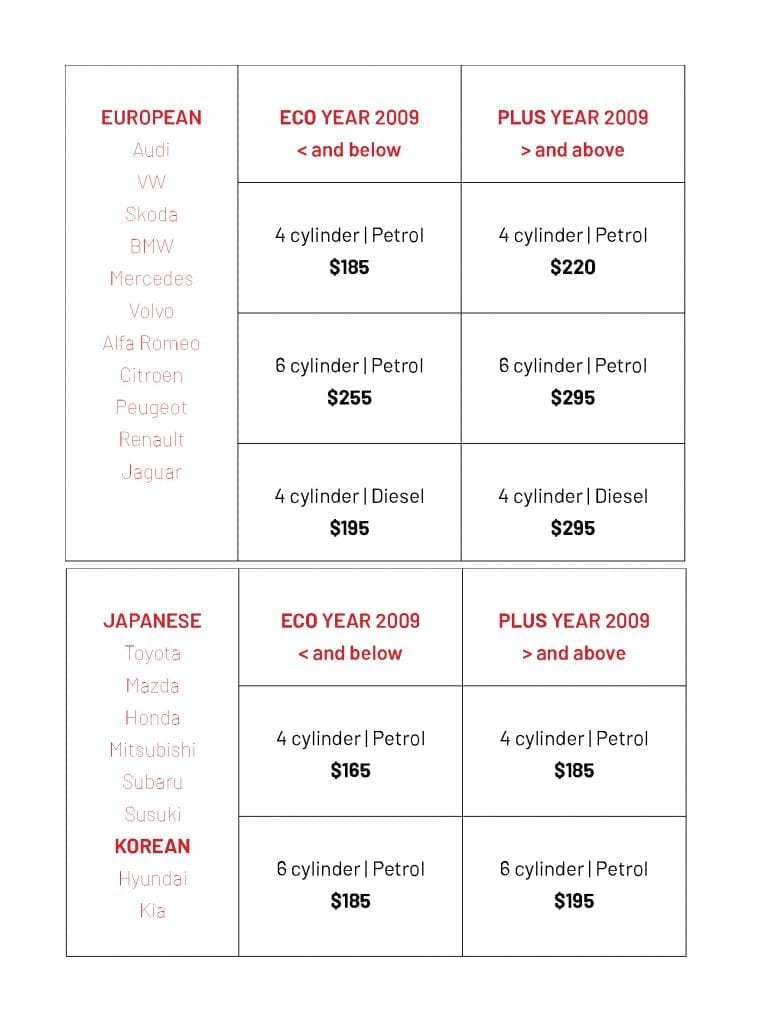 [/vc_column_inner][/vc_row_inner]
Connect scan tool and reset service indicator.
Every car is different and this is true even more so for European car brands. You can rest assure that your vehicle is in safe hands and will be looked after as the manufacturer intended.
We have spent the last 13 years investing in training, technology and building on our experience in repairing European vehicles. We were factory service agents for Citroen, Alfa Romeo and Fiat this added to our teams skills and experience, and established us as the Bays European car specialists. We are committed to providing a real option to the factory dealer networks. We have grown as a result of our fantastic customers recommendations and referrals.
Euro Spec Services
Different European models have different servicing intervals. Some more frequent than others and each service. We can service your European vehicle to ensure it keeps running the way it was designed to. Our team has years of experience, diagnostic and mechanical training, special tooling and access to a world wide knowledge based information system.
Servicing your particular car is a systemised process which is tailored to you and how you use your car. However we recommend 12 month or 15000 km service intervals for Diesel and Petrol motors. Don't be fooled though it is critical the correct oils filters and products are used. We use manufactures specifications to ensure your car is looked after correctly.
Electronic Diagnostics
Electronic controlled systems in your car even if it is 10 years old are very sophisticated and at times difficult to diagnose and repair. Here at Bay Automotive we have top of the line scan tool and scope technologies to help diagnose and repair issues as they arise. They are not magic wands but you can't do the job with out them. We invest every year in equipment and training to keep up with the fast changing world we live in. Your car will be in good hands and every repair carries the Bay Automotive guarantee.
"In these unprecedented times, I need to know that my vehicle is safe and reliable. I can trust Bay Automotive will tell me everything to keep my vehicle in great condition, they understand how to manage what is important "
Angela Beatson
We always envisioned having a true one stop shop. Where clients can come to a trusted team with not only your safety in mind but also knowing how important it is that we do the right thing by you and make sure your money is being well spent. We work hard for our money and respect the fact that you do too. We have a range of tyre options for your car. We don't do budget tyres but do from economy through to premium range styles. Budget does not add up to value for money and that's what we are passionate about.
The wheel alignment on your car is critical to improving tyre wear and safe handling characteristics of you car. Modern roads give your suspension a hard time, this affects wheel alignments greatly. A regular check of the wheel alignment is more important than ever. Depending on use and distance traveled we recommend a tyre and wheel alignment check every 6 months. This service has saved hundreds of tyres, that would have otherwise worn out early. Early tyre retirement is a waste of money and hard on the environment.